| | |
| --- | --- |
| | Glamis Photos (Off-Roading) |
Registered users: Click on thumbnail to view full size. Captions down below.
No password? Click here. Registration is free to the industry.
Photos 55-72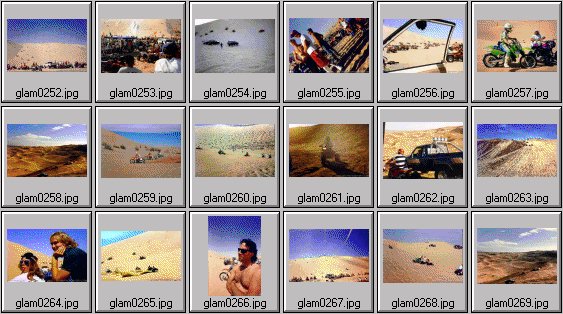 Captions:
glam0252.jpg View of Competition Hill from the bottom, 1990.
glam0253.jpg Olds hill racing, 1990.
glam0254.jpg Trucks prepare to ascend Comp, 1987.
glam0255.jpg Racers watch Olds hill racing, 1990.
glam0256.jpg View of Olds hill racing, 1987.
glam0257.jpg Riders prepare to circle inside Bald Billy's Bowl, 1993.
glam0258.jpg SE view from top of Comp; tracks visible in sand after rain, 1990.
glam0259.jpg 500s race up R/H side of Olds, 1990.
glam0260.jpg Kawasaki Tecate vs. Honda ATC 250R, 1987.
glam0261.jpg Dennis Sparkman "caught dead" on Honda ATC 250R, 1986.
glam0262.jpg View from top of Comp, 1984.
glam0263.jpg View of Comp, 1984.
glam0264.jpg Kris Balgaard and Darci Schoolcraft watch hillrace action at Olds, 1987.
glam0265.jpg Hillracers go up Olds, 1993.
glam0266.jpg Scott Musselwhite waits to race at Olds, 1990.
glam0267.jpg Comp, 1990.
glam0268.jpg Tom Engelhorn shakes hands with Banshee rider after 1990 victory.
glam0269.jpg View of Comp from top, SE, 1990.
Home Browse Search Contact Subscribe Return to Galleries
29 JAN 1999
All photos and content copyright © 1981-2010 PHOTOSPORT.COM. All Rights Reserved.